VanMoof App Concepts
The VanMoof Rider App is a companion app for VanMoof electric bikes. Enabling riders to get more controls and features out of their bike. I worked on some personal concepts myself to bring some ideas to life (Note: this is not representative of the VanMoof App roadmap and development plans).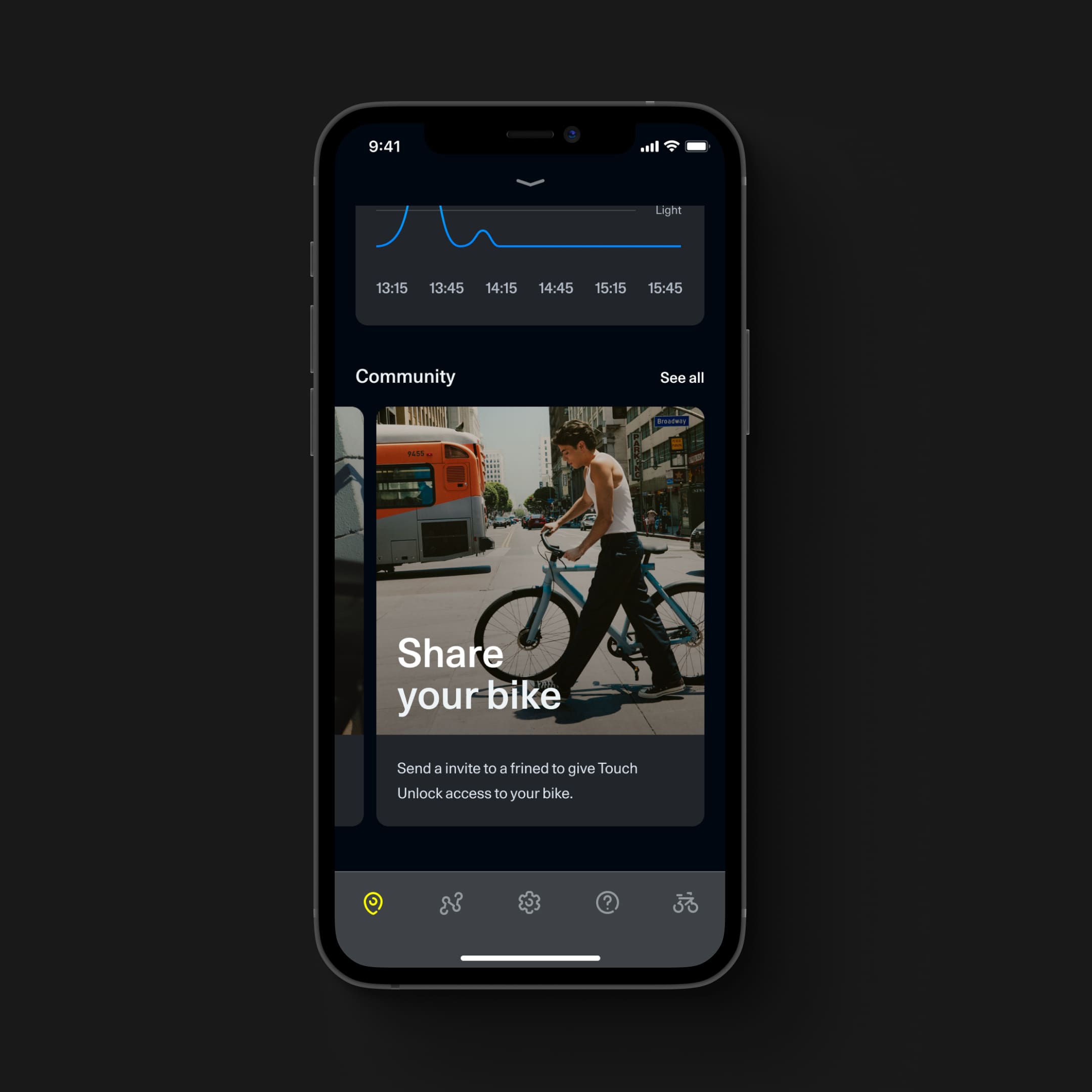 Home
The home screen is used to unlock the bike, show its status and location. The unlocking process involves moving the bike to unlock the rear wheel. The unlock transition provides feedback and guides users on the unlock process. Once unlocked, the home can gives an an entry point to the dashboard. Swiping up, a drawer shows useful information. For example as upcoming rain updates, or rider community events and promotions. I also looked into a dashboard view for an active ride. The focus is to show the battery range in a glanceable way. This view could also be customised to the rider's preference.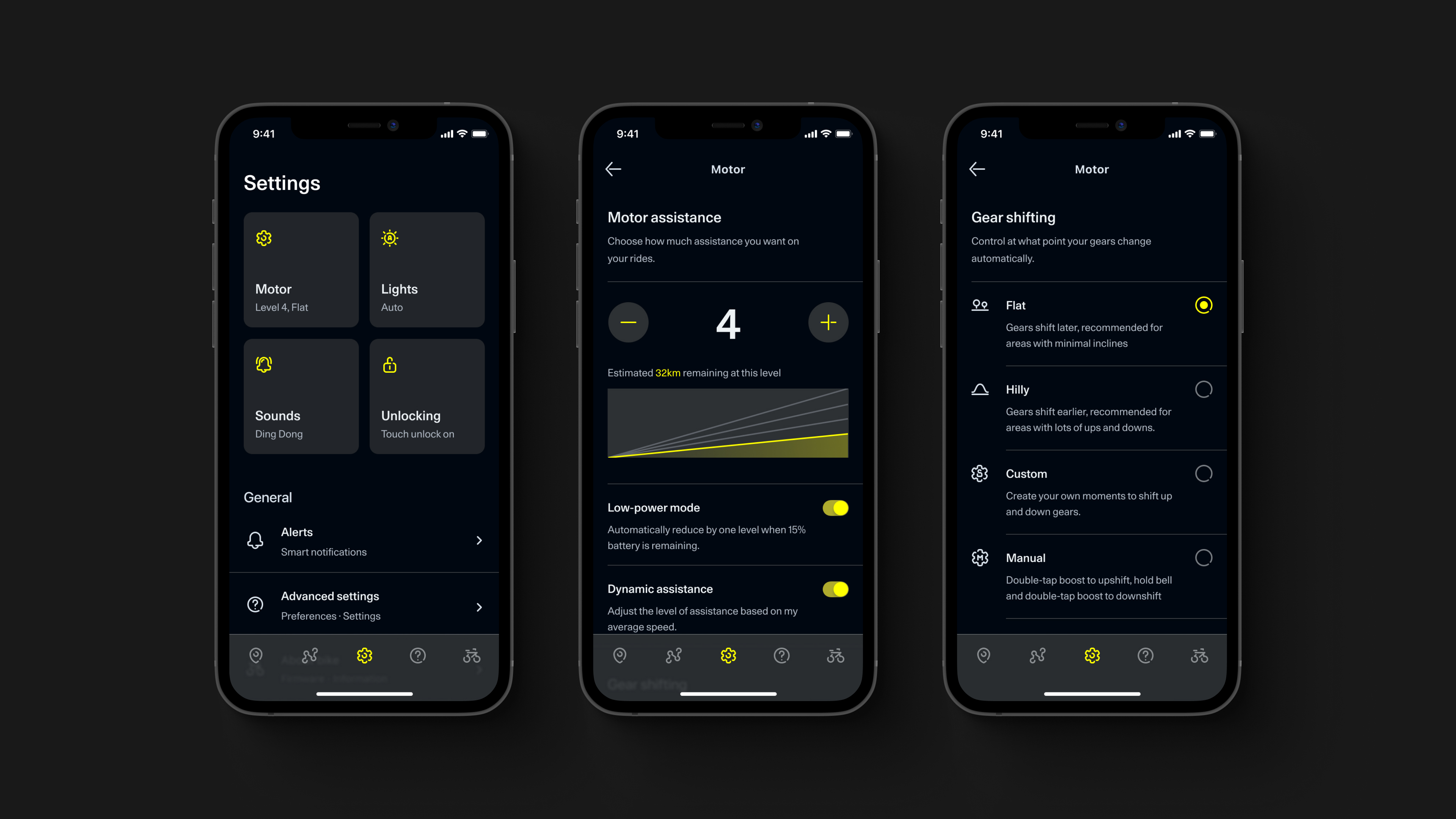 Settings
For this area I wanted to test out a re-structure of the settings, which are currently all in one place. I split the categories into separate screens per bike component. The extra space allows us to add more advanced controls. We can now add more information to help guide users on how the controls change their experience.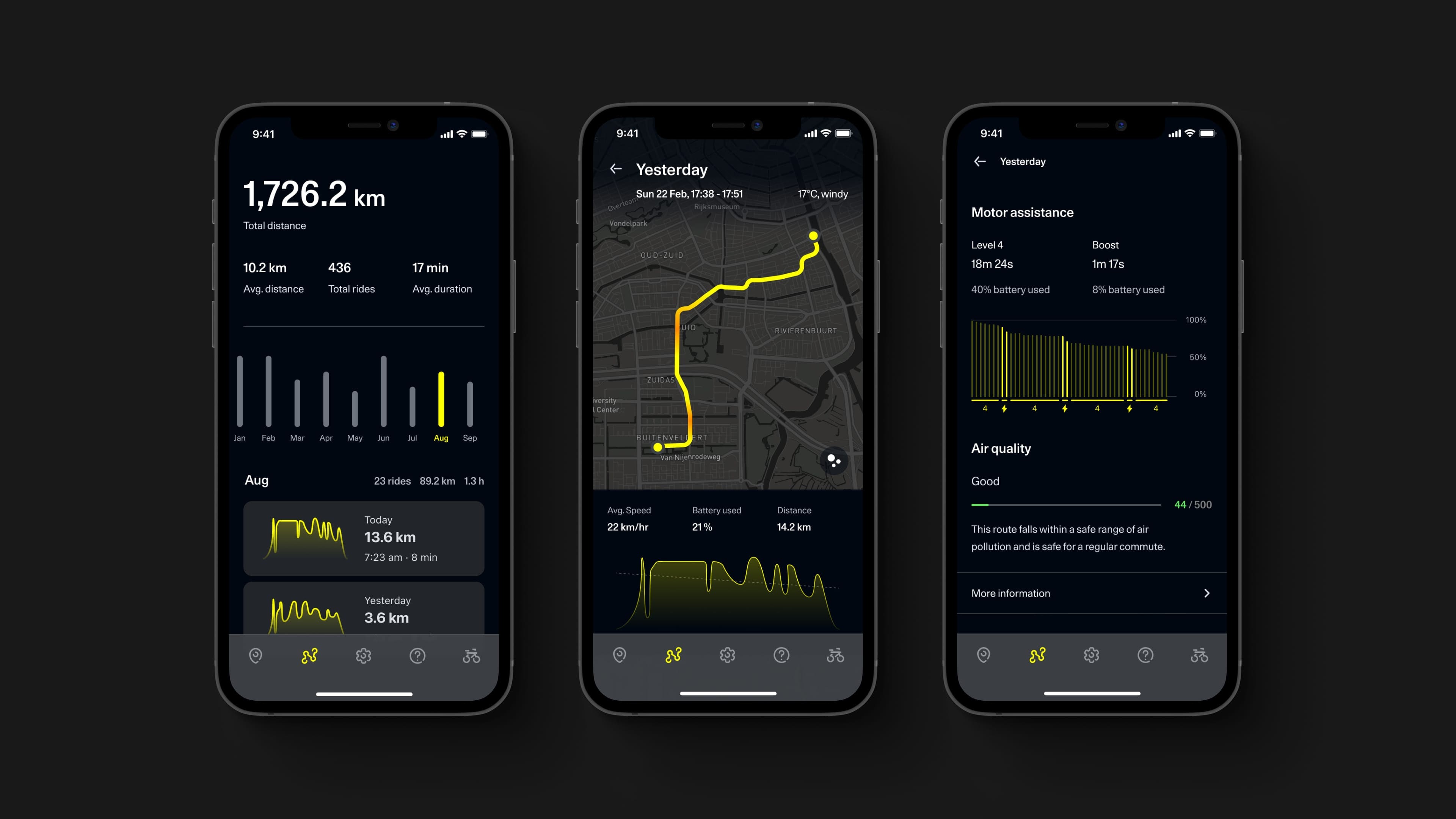 Rides
For the rides tab I explored a simplified overview compare activity per month. On the individual ride detail I looked into what benefits we could get out of riders opting in to GPS tracking. For example they could see their journey route, in correlation with the typical speed graph shown by default. The route colour system could adapt to relate to the speed, or air pollution levels of the ride.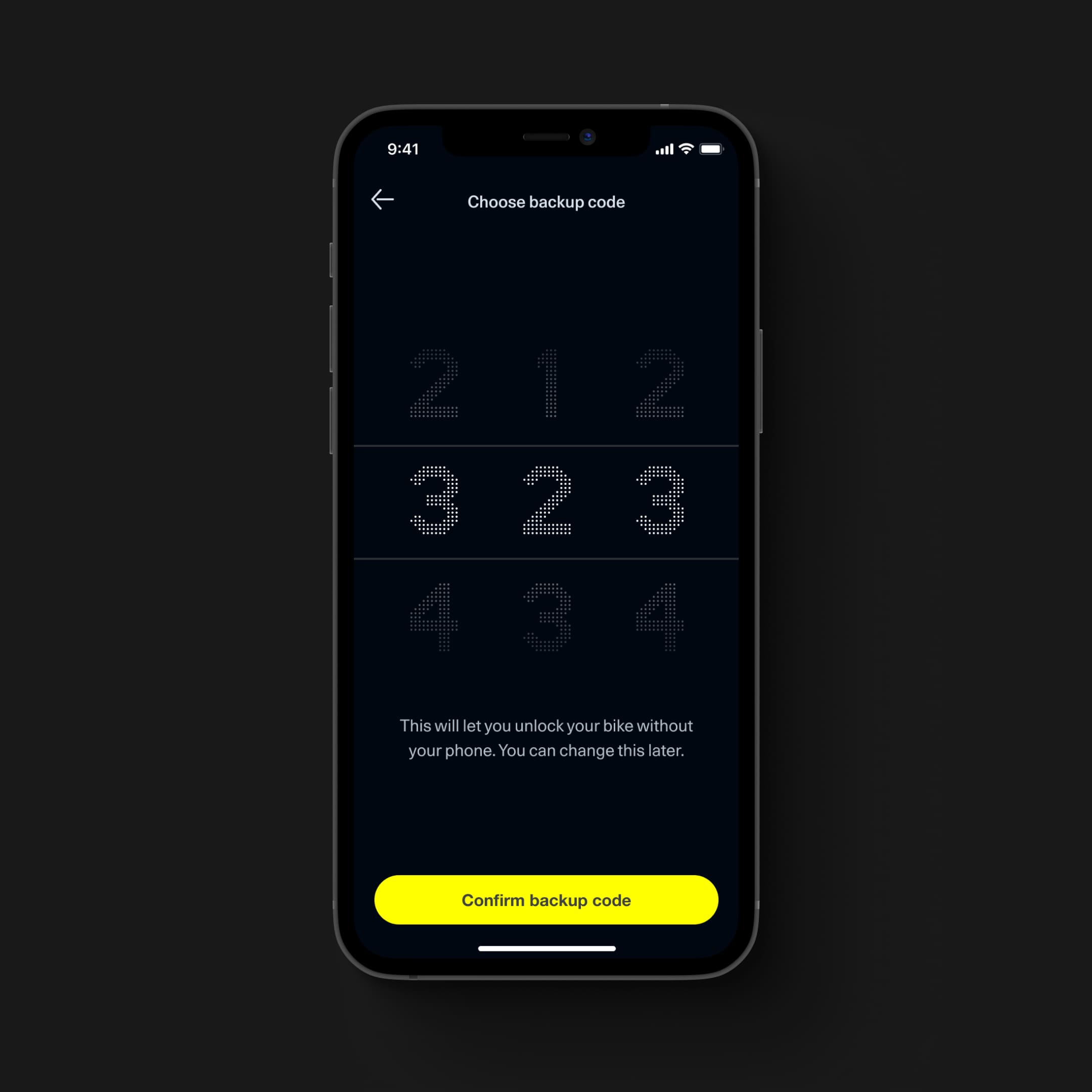 Onboarding
A couple ideas to improve the onboarding experience. The connection moment more visual and exciting. After connection the rider sets up a 3 digit unlock code for the bike. This idea uses a simple slider per number for users to arrange their code.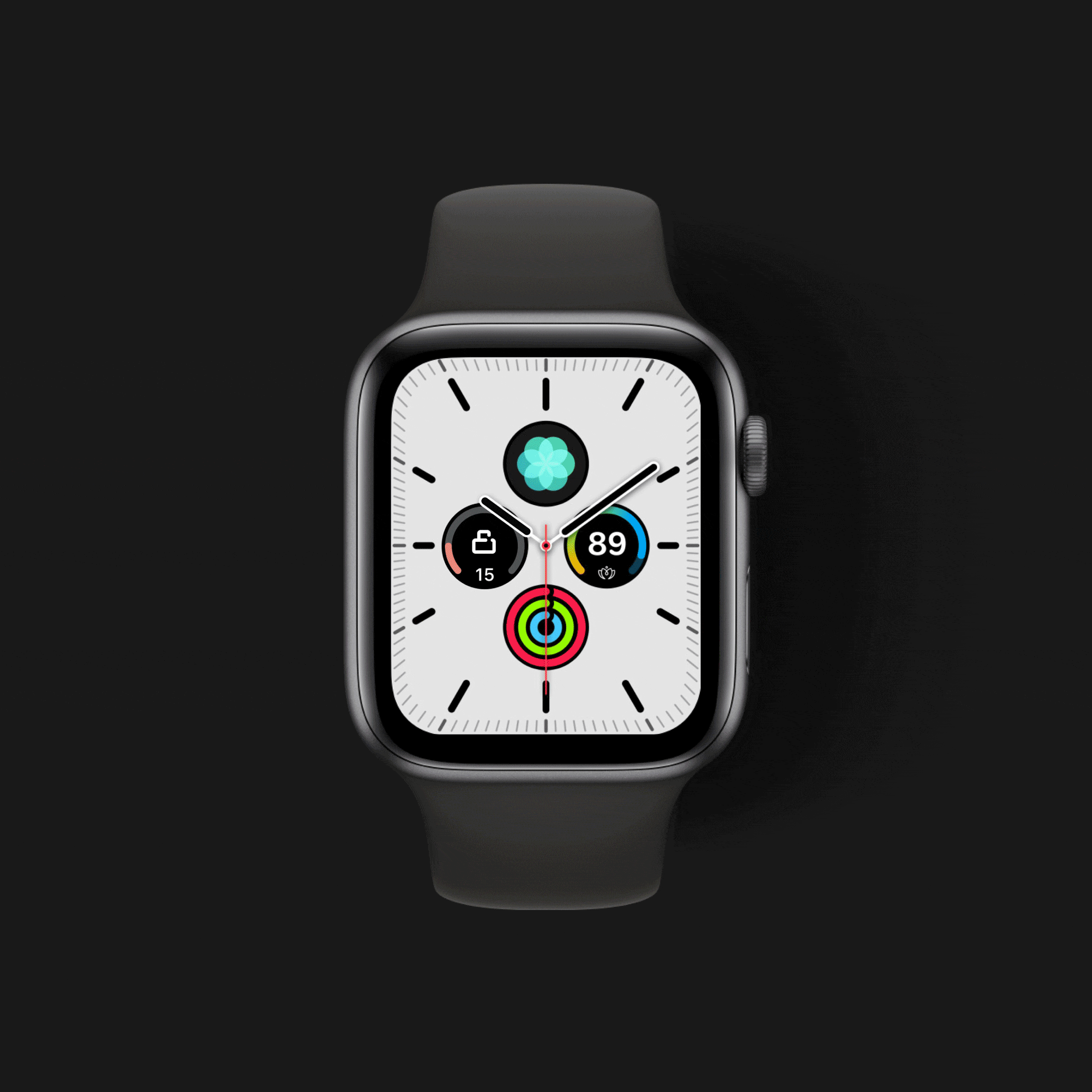 Watch App
Here I explored ideas for various complication states. Allowing people can see the battery level and status of their bike at a glance, wherever they are. I also worked on ideas for the home screen unlocking experience. The active ride dashboard screen lets riders track details of their journey as they ride.